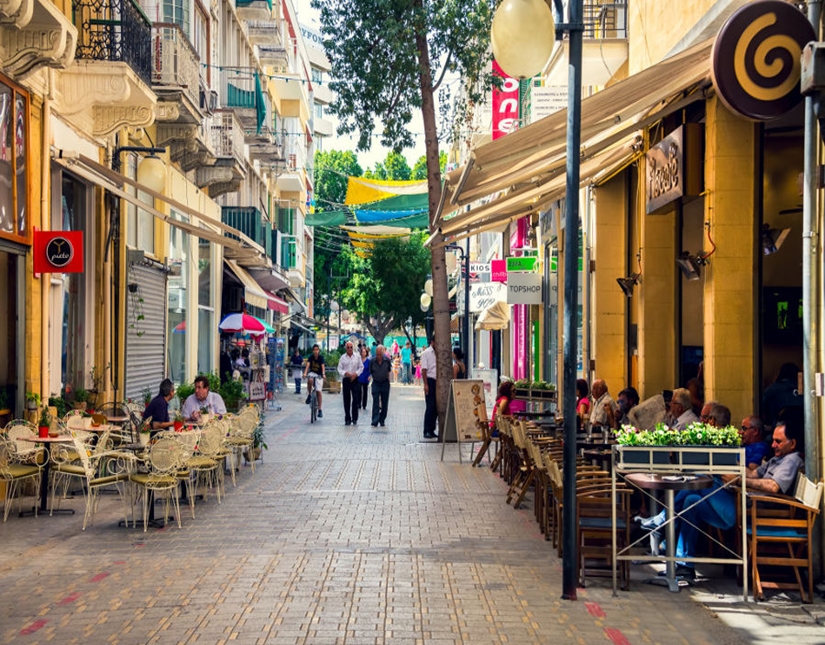 The cost of living in Cyprus as of April 2021 is quite low compared to other countries in the world. Cyprus is ranked 37th out of 135 according to the Numbeo ranking of countries in the world for the cost of living.
Let's consider some of the main expenses you may have when living in Cyprus.
1) ALCOHOL AND/OR TOBACCO
Cyprus has relatively low prices for alcoholic beverages and tobacco products. The average price of a bottle of mid-range wine in a store is around 6.50 Euro, local beer (500 ml) - 1.20 Euro, imported beer (330 ml) - 2.20 Euro, and a pack of 20 cigarettes - 4.90 Euro.
In cafes and restaurants, the above alcoholic drinks will cost you 2-4 times more.
2) CLOTHES
The cost of business, casual and children's clothing, as well as footwear in Cyprus can range from very reasonable to quite high, depending on where you shop and if you are looking for brands. For example, for international brands the average price for jeans is 70 Euro, high-quality sneakers 80 Euro, men's classic leather shoes 90 Euro, a shirt 35 Euro, and a summer dress could be around 40 Euro. The cost of a children's winter jacket is 50+ Euro, and quality children's shoes could be around 40 Euro. However, there are also several shops whose clothing and footwear are half that price, especially if you shop during the sales period.
3) COMMUNICATION
The average monthly cost of various communications, like renting a home phone, internet subscription, mobile service provider tariffs, and data transmission costs is starts at €100 (assuming you have one mobile phone). The average monthly internet subscription for a standard data plan is 30 Euro (home internet), landline phone rental - from 30 Euro per month, mobile plan with limited internet traffic about 40 Euro per month. The cost of an internet connection and telephone connection for a mini-office (1 landline number and 1 mobile, landline internet) will cost about 150-170 Euro per month. It is important to note that service providers will at times run special offers that could help you decrease the aforementioned costs by a lot.
4) EDUCATION
The average annual tuition fee for a private international school (excluding additional costs) ranges from 3,000 Euro for primary schools to 9,000 Euro for secondary and high schools.
Annual tuition at universities in Cyprus ranges from 8,000 to 15,000 Euro, except for the University of Cyprus which is free provided you pass its exams.
5) FURNITURE AND APPLIANCES
The cost of furniture and appliances in Cyprus can be considered moderate.
However, it certainly depends on the brand and the quality of the purchased item.
So, a dining table and chairs can cost you from 150 to 2,500 Euro, the average cost of a three-seater sofa is 400 Euro, the cost of a washing machine (6 kg) is 350-450 Euro, and a 46-inch TV is about 500 Euro.
An office computer will cost you about 900 Euro, a gaming computer - 2,000 Euro. An office desk costs 250 Euro, while an armchair costs between 75 and 300 Euro. The cost of a professional color printer combined with a scanner is about 700 Euro. An ordinary office phone with forwarding and conference call functions will cost you 40-60 Euro.
6) FOOD
Monthly expenses for food (supermarket) start from 250 Euro per person and depend on the choices of your grocery basket. The cost of seafood, beef, lamb, rabbit, chicken breast, and turkey is quite high. If you follow a healthy diet and/or suffer from allergies to lactose and gluten, you can safely increase the above figure by one and half times.
7) HEALTH CARE
Cyprus is characterized by moderate costs for general health care, doctor's visits, hospital stays, over-the-counter medications, and health insurance.
The average cost of visiting a private doctor for an uninsured patient is €50, while a day's stay in a private hospital, including nursing, medications, diagnostic tests, meals, and related costs can range from €250 to €1,500.
High-quality insurance for inpatient medical expenses will cost around 600-900 Euro per year.
8) PROPERTY
Residential property
The minimum rental price for a furnished one-bedroom apartment or a "turnkey" house is approximately 450 Euro in Paphos and 600-800 Euro in Limassol or Nicosia.
Buying a one-bedroom apartment, depending on the city and region of Cyprus, will cost from 50 to 150 thousand Euro.
The cost of 1 sq. m of housing, depending on the area and the quality of construction, varies from 900 to 3,000 Euro.
Offices, shops and warehouses
The cost of a monthly rental of office space in Paphos, depending on its location, ranges from 5 to 25 Euro per 1 sq. m, in Limassol - from 12 to 50 Euro per 1 sq. m, from 10 to 25 Euro in Larnaca and in Nicosia.
9) MISCELLANEOUS
Cyprus has low prices for dry cleaning, linens, magazines, newspapers, stationery and postage stamps. The average price for dry cleaning (2-piece suit) is €10, while a newspaper costs €1.50.
10) PERSONAL HYGIENE
The average cost for a man's haircut is 15 Euro, for a woman's 20 Euro.
The cost of styling varies depending on the length of the hair and the degree of difficulty and ranges from 15 to 80 Euro. Hair coloring prices start at about 50 Euro.
A manicure/pedicure costs about 25 Euro.
A monthly hygiene kit for 1 person (shampoos, shower gels, shaving gels, etc.), excluding the cost of cosmetics and special personal care products, will cost about 50 Euro.
11) RECREATION AND CULTURE
The cost of books, cinema or theater tickets, and sports subscriptions is quite high. So, the cost of a book starts at 10 Euro, a ticket to the cinema for 1 adult 10 Euro, a ticket to the theater for 1 person from 15 Euro.
A monthly subscription to the gym depending on what that includes starts at 50 Euro per person. Tennis lessons (once a week) can cost from 100 Euro per month.
12) FOOD IN RESTAURANTS AND HOTELS
The average cost of a day's stay at a hotel, including food and drinks in the restaurant, as well as takeaway food and drinks, is around 500 Euro.
The average price of a cappuccino (regular, average) is 3 Euro, Coca-Cola/ Pepsi (330 ml) - 1.5 Euro. Lunch at a mid-range international restaurant for two is about 50 Euro.
13) TRANSPORT
Unlike some other EU countries, Cyprus does not provide its residents with such a vast variety of choice of public transport and routes so as to serve their every need efficiently. Therefore, in order to save time and aggravation, after a couple of months of living in the country you will come to the conclusion that it is necessary to purchase your own vehicle. The general picture is as follows:
Car fuel cost
As of the end of April 2021, the cost of 1 liter of fuel was: gasoline (Unleaded 95) - 1.22 Euro, gasoline (Unleaded 98) - 1.27 Euro, diesel fuel - 1.30 Euro.
Car rent
The cost of renting a car with an engine power of up to 1.6 liters is from 25 Euro per day. The cost of renting a VIP class car is from 120 Euro per day, plus a deposit.
Taxi
The cost of a taxi in Cyprus is quite high. Individual transfer to the nearest airport (from the airport) is from 50 Euro. A trip around the city is from 10 Euro. The approximate cost for 1 km of travel is 1 Euro, the cost of boarding is from 4 Euro. The cost of rural and intercity taxis can be found on specialized sites.
Public transport (buses and minibuses)
City bus transport
Urban public transport fares are valid for the entire city district. That is, the cost of a trip to a village or settlement near Paphos or Limassol will cost you the same amount as the cost of a trip around the city.
Day and night rates are different. Travel for children under 6 years old is free, from 6 to 12 years old paying 50% of the cost of an adult ticket.
There are also discounts for students and soldiers serving in the Cyprus Armed Forces.
Intercity transport
The cost of travel between the cities of Cyprus is from 5 to 9 Euro in one direction. A round-trip ticket will cost you about 30% less. Monthly and annual passes are also available, which is very convenient for those who work in a neighboring city.
Detailed information on the bus routes, their timetables, and changes in fares can be found on Cyprus By Bus website.
Purchase and maintenance of a personal vehicle
The cost of a new passenger sedan, including taxes/duties, for a compact economy car (1.4L), is about 14,500 Euro. A used car without significant technical problems can be purchased for 4,500-6,000 Euro.
The cost of an annual third-party liability insurance contract will cost you on average between 180 and 400 Euro, and the cost of an annual road license will start from 90 Euro per year.
14) UTILITIES
The cost of utilities in Cyprus is in direct proportion to the volume of their consumption. Therefore, if you are used to consuming a lot of electricity, keep in mind that it will not seem cheap enough to you.
You will pay from 160 to 250 Euro per year for garbage collection.
The average amount of water costs for a small family (excluding watering the garden and the existence of a pool or a fountain in the yard) will be about 20 Euro per month.
The cost of electricity for minimum consumption and individual living in a one-bedroom apartment will be from 35 Euro per month (air conditioning/ fan/electric heater not included).
Often, when living in residential complexes, a complex maintenance fee is added to the above payments, ranging from 20 to 150 Euro per month. As a rule, the amount you pay includes the costs of cleaning the premises and common areas, maintenance of the pool, playground and green area of the complex.
THE COST OF DOING BUSINESS IN CYPRUS
Let's consider the minimum costs of the first year of operation of a small consulting company in Cyprus.
The cost of registering the company and opening a bank account is about 1,500 Euro. The costs of registering with the tax authorities and the social insurance funds start from 500 Euro.
Contribution to the authorized capital - 1,000 Euro. Additional fees and charges - 100 Euro.
Annual accounting services and company audit start from 1,500 Euro. The annual company levy is 350 Euro (payable by June 30 of each year). The annual professional municipality tax of the company is approximately 200 Euro per year (depending on the region).
The minimum cost of renting a small office in Cyprus (for 2 workplaces) will be from 350 Euro per month or 4,200 Euro per year.
In addition to these costs, the utilities and office cleaning will cost the company approximately 120 Euro per month or 1,440 Euro per year.
Telephone and internet costs are from 150 Euro per month or 1,800 Euro per year.
Hiring a staff of 2 with a gross salary of 1,000 Euro per month, including social security contributions and GeSY, will cost the company approximately 2,482 Euro per month or 29,784 Euro per year.
The cost of stationery and office equipment maintenance is from 100 Euro per month or 1,200 Euro per year.
The one-time minimum expenses for the purchase of office furniture and equipment (taking into account the organization of the recreation area and the visitors' area, as well as the installation of air conditioners) will amount to about 7,500 Euro.
Software including licenses are up to 300 Euro. Creation and launch of a company website - 3,500 Euro.
Employer's Liability insurance starts from 160 Euro per year. Office and public liability insurance - from 100 Euro per year.
In total, the cost of setting up and the first year of operation of a small consulting company in Cyprus starts from 52,694 (52,700) Euro.
The amount indicated by us does not include the cost of purchasing a company car, visa services, insurance and relocation of the company employees (if there is a need for it), advertising and maintenance of the website.
From the second year onward, the costs of doing business will amount to approximately 38 thousand Euro per year.